Hello my name is Graham........................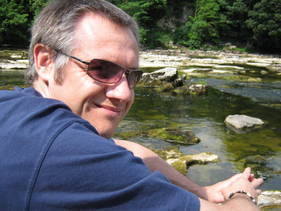 I am an author and the creator of Good Guy Publishing.
A Little Bit About Me:
Writing has always been an interest of mine, as far back as I can recall. As a child I am told I had quite an active imagination and enjoyed acting out my own stories with toy soldiers & Star Wars figures. When I got a little older I started writing some of them down and they really started to flow in my 20's. The poetry and lyric writing probably started around the age of 16 and still continues to this day.
I like writing about different things at different times and try to write short, fast moving stories whenever possible, which I am still trying to perfect. I certainly believe that like in life, authors learn by doing and the more you write the better you become.
I am inspired personally by various things and events. I draw a lot of material and ideas from my childhood, including the stories I remember family members telling me when I was young. Quite often the key elements of an idea such as the opening line of a story or the very last word of a story are generated during a conversation and I have to rush to write it down. It's quite bizarre really and very exciting.
Reading as much as you can about as much as you can is certainly a tip to consider for any budding author. I have read a variety of fantastic novels and short stories over the years and have been influenced by many a great writer, which equates to quite a long list that but includes Alan Warner, J.K. Rowling, Ken Kesey, Val McDermid, Joseph Heller, Jeffery Archer, John Grisham and Frank McCourt to name but a few.
Electronic publishing is a relatively new and innovative way of getting your written projects noticed and there are some electronic publishers out there (and hopefully you will come to count Good Guy Publishing among them) who are doing a wonderful and very important job bringing new and exciting writers to the foreground. This gives authors that much needed opportunity, that you might otherwise have to wait a lot longer for using traditional publishing methods.
So that's pretty much it in a nutshell, the reason for the site is to not only continue on my publishing quest releasing my own work but to also, by drawing on my qualifications and experience in Creative Writing and Life Coaching: help, support and encourage any aspiring authors out there who are interested in publishing their work for the first time. If this sounds like you, please drop us a line at Good Guy Publishing to find out more.
My Kindle titles are all available on Amazon and include the following:
Focuses on recessions and how they can affect everyday people. The twist and every story has one, is that it also looks at how a recession might affect someone like the Grim Reaper.
Bringing Home The Bacon
This was the very first short story I completed for my MA and to this day remains one of my favorites. It's a coming of age type of story about three friends living in Teesside back in 1986, narrated by one of the friends as the action unfolds.
It's currently appearing in the anthology 'On This Day' as Bringing the Bacon Home - published by Bridge House Publishing, both in paper back & Kindle format (anyone wanting a signed copy let me know ;)
Climbing The Walls
This one came about through experimenting with the dreaded 'writer's block' that often has us writers literally climbing the walls. It's about a guy suffering the aforementioned affliction.
Ah, my beloved 'Smile'. This is one of my earlier pieces originally conceived during a character-producing exercise - from which Colin was born.
The story starts with Colin seeking refuge from something but what? In his search for solace he enters what he thinks is a deserted Church and prays for help - but why? Soon after a mysterious man arrives on the scene intent on interrogating Colin - but who is he?
This is probably the closest I've come so far to writing anything autobiographical. It's loosely based on journal entries I made during my trip to Uganda back in 2008, although naturally I've embellished it just a tad for comic effect. I am currently working on a sort of prequel called 'One Night In Dubai' which may or may not see the light of day at some point in the near future.
Is a work of flash fiction which came 4th in the Good Guy Competition, selected by our trio of Good Guy Judges. It's currently appearing in the anthology 'Flashy Shorts' published by our Good selves.
WTPCD is narrated from four different character perspectives focusing, as the name suggests, on events relating to before, during and after a plane, in this case a German Heinkel He 111, is shot down over North Yorkshire in 1941.
Coming Soon:
Ten Things I Discovered This Weekend
Is due to be published next year in an anthology by Bridge House Publishing. It takes place in March 1981 and is narrated by Darryl, an eight year old boy, as he recounts the events of his weekend as part of a classroom project.