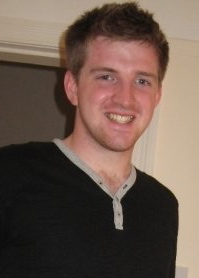 Acted as one of the three judges in the 2013 'Flashy Shorts' Competition.
Winner of the 2012 'Flashy Shorts' Competition with his short story entry The Metro Rider.
Tell us a little bit about you:
I am a proud Yorkshireman, but have studied, lived and worked in the Newcastle area for seven years. My degree was in English Literature and I did a Masters in Creative Writing both of which are major passions in my life.
I love sport; playing regular five-a-side football and am a long suffering Middlesbrough supporter. I also enjoy playing cricket. The great outdoors are always alluring and I take great pleasure in concurring mountains and admiring the northern landscapes. I sing in a couple of choirs which is a particular passion of mine. I enjoy watching films of any genre except musicals and love going to the cinema.
What do you like most about writing?
I like the moment when I break through the initially awkward and frustrating period of writing and become immersed and struggle to get all my ideas down. I love it when my ideas start to flow. This is when I feel most positive about myself.
Is there anything you dislike about writing?
I dislike the initial excruciating moments when I have allocated time to write but nothing is coming into my head. I find myself writing a lot of drivel until I finally break out of it.
What are your strengths and weaknesses as a writer?
I am fortunate to be able to conceive of new ideas and concepts for plots and characters, which is great for starting on new projects, but not for when I become distracted half way through a story. I am also, like many people, a chronic procrastinator and have a constant battle of will with myself.
What inspires you to write?
As a big fan of science fiction and dystopia, I am inspired by creating new visions of the future. I have also been increasingly inspired by my local surroundings and the people I come across on my daily commute on the metro.
Which author(s) would you say have most influenced your writing?
* Kazuo Ishiguro for his effortless style and wonderful introspective characterisation.
* George Orwell for his terrifying vision of the future.
* Iain Banks for his incredibly detailed science fiction worlds (the culture novels are brilliant).
* Charles Dickens who is the master of the novel.
* Charles Bukowski who is a master of short fiction.
* Cormac McCarthy – he is a fantastic writer
What are you reading at the moment?
The Grapes of Wrath by John Steinbeck
Which three books would you list as your favourite all-time reads?
The Lord of the Rings
The Remains of the Day
The Road
Do you have a preferred genre or particular style you apply when writing?
Science fiction has always been a draw for me. I prefer to write in first person for the intimacy of the characterisation, but like to experiment.
What are you working on at the moment?
A series of short stories expanding on the metro motif and a future collaboration based on a science fiction concept.
Any thoughts about e-books and e-book publishers?
It is the future. I am a proud Kindle owner and have never looked back. I think e-publishing is giving opportunities to budding writers who would otherwise have been struggling on without any glimmer of hope.
Do you have any advice for aspiring writers?
Apart from the clichés, I would say that having a portable notebook is a great tool for jotting down those gems you think of on the move. I also think that forcing yourself to write as often as possible is very important, though I am guilty of not practicing what I preach on that front.
What are your hopes for the future?
I hope to have more stories published and perhaps gain an audience who look out for and enjoy reading my offerings. I want to feel like I have been able to write about what I feel are important messages and give exposure to ignored voices.
Where can you be found online?
Through Good Guy Publishing and on Facebook.