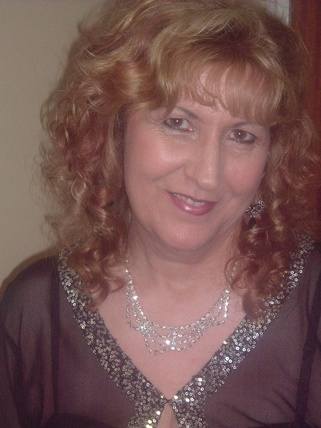 Debbie Behan
Tell us a little bit about you:
I was born in Tallangatta, Australia in 1957. At the age of twelve, my father opened a curtain business in Wodonga so along with my mother, four sisters and one brother, we moved and all attended the local High School.
That was the beginning of my travelling bug and over the next 30 years I moved many times, travelling throughout Western Australia, back to Victoria, up to New South Wales and lastly to Queensland where I still reside. During my working life, jobs took me to many interesting destinations, meeting many colourful personalities. This later inspired me to write fantasy stories that paid tribute to all those characters that my beautiful daughter, Jody, tolerant husband and I had to leave behind.
When I'm not writing, I dance Latin and Ballroom with adorable husband Shaun, or you may see me chilling out with a fishing rod. My favorite animal is a dog and my Akita, Benson I believe is a true canine gentleman. Even the way he eats is far from doggy gulping and his mannerisms are old worldly and kind.
What do you like most about writing?
It is like a movie that never ends until I'm ready. Reality disappears and fantasy becomes my world. When the story develops I'm caught up in a tale that can have my heart racing or beating tenderly. Never do my thoughts allow me to ponder what others think of me, or for that matter, what I'm going to feed the family for dinner that night. You're captured in their world, worrying for them, those that you write about and making sure all their needs are met. Just for a while, you allow yourself to walk in another's shoes. They may be wealthy, poor, young or old, it does not matter, what matters is you are happy, so very happy to have another chance on paper to do whatever your heart desires – and, then hope someone else will like it when its done. Read it and say, it took me on a journey that I too enjoyed.
Is there anything you dislike about writing?
The characters that take me on their journey and the rollercoaster situations have my emotions at times quite raw, leading to embarrassing moments. One such instant is when hubby comes home early and find me with tears running down my cheeks or I might be chuckling at a comical piece that I've just written. He shakes his head, what's happened now or, okay who died. Ops sprung!
What are your strengths and weaknesses as a writer?
Characters and the story I research and execute are my strengths. I have to be honest that is where it ends. I laughed with my girlfriend the other night how someone that's dictionary was full of cuss's, could one day write an entire novel had us in hysterics. Amazing how time and circumstances can change one's persona so much. It goes to show, we never honestly stop learning, evolving. So my weakness is the editing side of it. I have trouble with tenses and detest the computer how it tells me to put a comma, question mark or full stop in and the editor disciplines me for doing so. Seriously though, I learn from every comment and each day my writing is improving. Who knows, one day I may even do an editors course, but for know I will keep others in business that know what they are doing and I will continue to do as I do – that is to pump out the stories others seem to be enjoying.
What inspires you to write?
My first story started with the moon, and I have looked to the sky for all my stories since. I research much of the solar system which led me to Greek Mythology and have found a love of all that is out there, (or not). And so far I have written 10 novels and there are many more brewing inside of me.
Which author(s) would you say have most influenced your writing?
Mills and Boon when I was in my early twenties until I found love and didn't need to read about it anymore.
30 years later, I read Twilight and after five of Stephanie Myers novels I was hooked on YA.
It was after I had written my first eight novels that I read my first PC Cast novel where I found an affinity with her and even though our stories are completely different, she wrote a goddess series based on mythology that l identified with and totally enjoyed.
What are you reading at the moment?
I chose to read or should I say, listen to audio books. I love to read romance and fantasy however, due to my commitment of bringing my novels up to publishing standard, I now pop a head set on and listen as I go along my busy day.
Which three books would you list as your favourite all-time reads?
PC Cast – Goddess of Spring
Stephanie Meyer – The Host
Tad Williams – Shadowmarch
Do you have a preferred genre or particular style you apply when writing?
Fantasy lightly sprinkled with romance.
What are you working on at the moment?
My first novel from, The Lord of the Planets series, 'Cloud Riders' was released early 2012. The second book to that series is currently at the editors and due to be released early 2013. I have started the re-write on the third novel to the series. There are five books already written but that was three years ago. Have learned so much since then and so am in the process of changing them from the first person that their currently formatted – to the third person.
Any thoughts about e-books and e-book publishers?
There will always be the readers that love that feel of an actual novel in their hands. The sight of it on their home bookshelf and those endless trips to brows bookshops or markets to get that special copy only they could find. Then there are the e-books. Trendy hand held notepads that fit neatly and lightweight into your handbag or knapsack that thrills the reader with the thought of reading a chapter no matter where or when. Down load efficiency at an affordable price.
As for the e-book publishers, I feel if they keep a code of due diligence to their customers, that the product they are producing is of the finest of quality, well edited and categorised which ensure novels do not end up in the wrong aged hands, I believe will have much success in the future.
Do you have any advice for aspiring writers?
I would have to say the most important tips I have is to give your work out to be read and take on board comments. Iron them out early to prevent further comments later by someone else that feels the same. Don't be scared that someone may pinch an idea, no one will write it like you anyway. Stay true to your style but open your heart and let others help you with your baby. Last of all, never settle for just one edit. It is the most costly of all if you are going to independently publish, but so worth it to hold your final published copy, the baby you have nurtured for months, maybe years and that you are now so proud.
# For those looking for an editor, I put out inquires and then gave them a couple of pages to show me how they work and how I feet about them. You have to have a good repour with your editor as they are your guide at this stage to polish your final manuscript. Trust in this process with your editor as it is the difference between a good book, and when someone says, 'that's a great read.'
What are your hopes for the future?
That the words on the pages of my future publications that are read, touch others hearts and that they too feel the emotions behind each sentence that took many hours to consider and then write.
Where can you be found online?
Visit me on web address by clicking here and read about my latest adventure or take a peak at a short story or two. Check out my latest book trailer and find out more about my latest fantasy novel that's just been newly released.