Victoria Watson
Posted on
Victoria Watson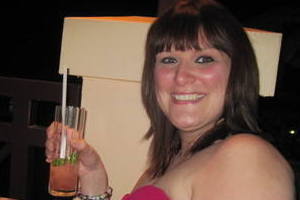 Acted as one of the three judges in the 2012 'Flashy Shorts' Competition.
Victoria's latest collection of short stories entitled 'Letting Go', whic
What do you like most about writing?
The Martini factor. I love that I can write anytime, anyplace, anywhere. I get ideas in the strangest of places and I love writing about characters and how circumstances impact on their lives. I really enjoy character development.
Is there anything you dislike about writing?
I'm not disciplined enough. There are some days when I don't write at all (bad writer!). I don't like that currently I can't focus entirely on my writing as I'm still working.
What are your strengths and weaknesses as a writer?
I like to think my strengths are telling an emotionally powerful story. That's what the reviewers seem to think, anyway. My weakness probably lies in my inability to have any confidence in myself. I let my self-doubt and neuroses get in the way.
What inspires you to write?
I know how much reading has influenced my life. I also know how important stories have been when I've been having a rough time in my life. Ever since I was a little girl, I've escaped into a book and I know many other people do the same. I'd like to be able to offer them some form of escapism. Another reason I write is to expose some of the injustices and sadness in societies.
Which author(s) would you say have most influenced your writing?
From being a young girl, I adored Roald Dahl and, as I matured, I read 'Tales of the Unexpected' which have really had a massive impact on the things I write. Since growing up, I have enjoyed stories by Mohsin Hamid and Khaled Hosseini who inform as well entertain. 'To Kill a Mockingbird' is possibly one of the first books that I realised could change peoples' outlooks and beliefs. Mark Haddon also writes very distinct books.
What are you reading at the moment?
I'm a reviewer as well as a writer so at the moment I'm reading 'Absolution' by Patrick Flanery. It was sent to me by Waterstone's to review on their website.
Which three books would you list as your favourite all-time reads?
Now that's a tough question! In no particular order: Harper Lee's 'To Kill a Mockingbird' is truly a work of genius. It has so many layers to it and is so culturally significant, it made such a difference. 'A Thousand Splendid Suns' by Khaled Hosseini told such a unique story with a great deal of heart. It informed me about a culture I knew very little about and a people who are being represented as 'the enemy' in the Western world. I think 'Matilda' by Roald Dahl has to be my third choice. It's a really inspirational story about a little girl who, despite repugnant parents, teaches herself to read and eventually finds someone who will support her in the form of the lovely Miss Honey. This story is actually quite dark but it remains feel-good.
Do you have a preferred genre or particular style you apply when writing?
At the moment, no. I'm writing a lot of short stories which may eventually get turned into longer things but, to be honest, I'm just getting the stories I have in my head onto paper and then seeing what happens. By writing short stories and self-publishing them, it means I don't have to decide on one particular genre just yet. One thing that most of my stories have in common, though, is the fact that they all have a twist in the tale.
What are you working on at the moment?
I just released my first collection of short stories called 'Letting Go' two weeks ago.
I have three short stories on the go at the moment but I have been a bit lax with them. I would like to get them written and a few more to go with them in another collection. I also have a novel called 'Fix Me Up' which I'm about a third of the way through.
Any thoughts about e-books and e-book publishers?
I have to say, if you are approached by an e-book publisher, do plenty of research into the company who has approached you. Don't agree to anything you're not comfortable with. Amazon has a very good section for self-publishers so, if like me, you'd like to hone your craft and have some self-control and independence over your work until you get a bit more confidence, you can self-publish through Amazon.
Do you have any advice for aspiring writers?
Keep at it. No-one is going to knock on your door and ask you to write – you need to do it. Set yourself small, achievable goals to reach – for example a couple of thousand words a day. Try and meet up with other writers so you can meet some on Facebook or Twitter, or your local library might have writing groups. Likewise a lot of reading groups may contain wannabe writers. Read a lot – there is no substitute for understanding what makes good and bad writers. Develop a thick skin – sometimes people will not like what you're writing but take constructive criticism on board.
What are your hopes for the future?
I'd love to be able to write full-time.
Victoria Can Also Be Found Here:
Victoria's blog is at: http://elementaryvwatson.wordpress.com
Facebook: Vic Watson
Twitter: @vpeanuts
Goodreads.com: Victoria Watson