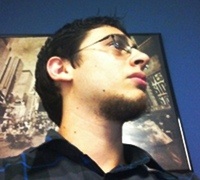 L. Vera
Winner of both the 2013 'Flashy Shorts' Short Story & Flash Fiction Categories with Confetti Skycade and Bubble Jet Fuel, respectively.
Tell us a little bit about you:
Lost in a sea of words and letters, I emerged from the broth of soup, barely awake. I awoke to find myself a writer, an IT Support Specialist and addicted to fitness. My new endeavour, Parkour, has already changed my life significantly. So I ask myself, "What next?" as I type this with a broken pinkie toe from learning to do backflips at the age of 29.
What do you like most about writing?
I like the space it gives you. A way to track the thoughts and a way of giving them structure and a meaning. That space is capable of creating some pretty impressive things, especially to myself.
Is there anything you dislike about writing?
The lack of time. It requires more than I can give it. Not just to actually do it, but to actually finish the idea before another one comes and steals its attention, like a child following butterflies.
What are your strengths and weaknesses as a writer?
I have too many ideas and it will never stop. Surprisingly that's both my weakness and strength. Also Roaches. Can't stand them, won't write about them and I hope they all die.
What inspires you to write?
The thoughts push me. Otherwise I'd just be lost in a daze when I'm bored. Now I rather write than just imagine worlds and exciting destinations.
Which author(s) would you say have most influenced your writing?
I hate to say Stephen King, so I won't.
What are you reading at the moment?
Like seven books. I'm in the middle of so many things, it's ridiculous. I'm in the middle of the fifth Dark Tower book for like five years now. Also since I've been in charge of AKAQ (www.aknifeandaquiull.wordpress.com) I'm in the middle of lots of other indie books. And I feel like a douche for not being able to finish one.
Which three books would you list as your favourite all-time reads?
13 Clocks by James Thurber is the only book I've read more than once and to the point where the number may be in the mid twenties. The Gunslinger, which is the first Dark Tower book, is amazing and powerful. Other than that I'd throw Slaughterhouse Five on that list. Another book that is just perfect in everyway.
Do you have a preferred genre or particular style you apply when writing?
I love speculative fiction. You know, that twilight zone kind of vibe. The ideas in my head usually form from the questions that dance around reality like, "What if instead of fish in fish tanks, someone kept people?" What sucks is I never finished that story, but you get the idea. I'm like a kid constantly questioning things without any real borders or definitions telling me what's right or wrong, socially acceptable or not. I just go with what I want, even if people hate it.
What are you working on at the moment?
I'm in the middle of this big project called "The Monolith" where I've written 20 readers into the story. I'm almost done with it but took a small hiatus to finish other projects like my next horror collection called "A Machete's Fantasy" and I've edited two more books. One which is a re-write of "Dayz" a free serial novel of mine you can find online and another collection of my free shorts found on the web called "My Blood". I also have a small novella called "The Rippers" which has been done for half a year but needs a thorough read through and a professional edit. In other words, I'm lazy and have watched all my projects slowly fall into the Land of Hiatus. But I promise to get one of those projects done this year.
Any thoughts about e-books and e-book publishers?
Love it. I found myself writing for free, tossing serial pieces out to see what people thought of my work. I also noticed that people liked my shorts and I have won tiny awards and prizes over the last couple of years. The fact that I can just make my own books is awesome. Would I like to do things the traditional route? Yeah, but I don't know how or even know anyone who could help me. So I became an indie writer where e-books are king. And I can easily read almost anything on my phone with ease and with a built in dictionary. How can anyone not like that?
Do you have any advice for aspiring writers?
Write. Write like you had just stolen the last sheet of paper from the devil. Write like you think no one will be reading it and most importantly write, because you love it.
What are your hopes for the future?
I have one related to writing and that's finding more readers. Hell, most of my stuff is free and can be found at multiple places. Stop and have a quick look, it wont take you more than five minutes to make a decision to read more. I promise you.
Where can you be found online?
If you got a buck or two stop by Amazon
Or check out my main hub of free stuff on deviantArt